---
---
Summary of the interview at the Rychnov 8 Festival with Oskar Siebert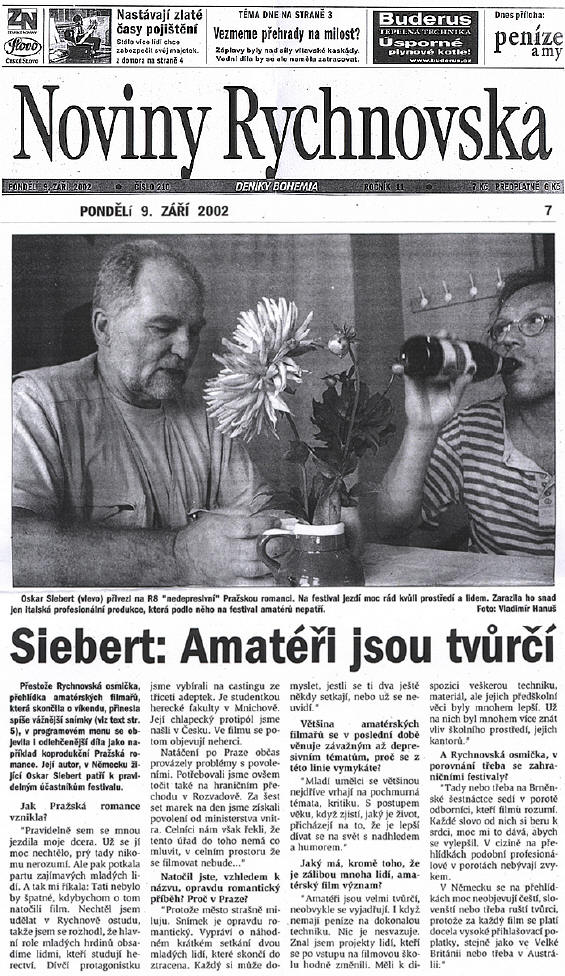 Oskar Siebert didnít bring along a depressive "Prague romance". He visits the festival every year, because of the people and the atmosphere. The professional film productions from Italy were very surprising for him, according to his opinion these productions should not be at an amateur festival.
Siebert: The authors are creative
This weekend was the Rychnov 8 festival and this time were more serious films shown than ever, but there were some happy films too, like the "Prague romance". The author Oskar Siebert lives in Germany and takes part every year.
In the interview, the questions about the making and the setting were asked. Siebert tells about the origin, where the idea came from and the relationship between the young German girl and Czech boy in the film.
Siebert has got the opinion, that young film makers begin with serious subjects and when they are older, they will find out that we have to take life with humour, thatís why it changes from serious to humours. Siebert explains that amateur film makers are very creative, although they donít have the money for professional equipment and donít have the financial aid for projects.
At film schools the style changes and the films became not as good as before; they are not that personal. The influence of the university and the professors is enormous.
In comparison to other international festivals, the Rychnov 8 has a professional jury like Brun. The jury knows the film as an art, and that is why this festival cannot be compared with others. In Germany there are less foreign films because the application fee is very high.
By Daniela Siebert
---