---
---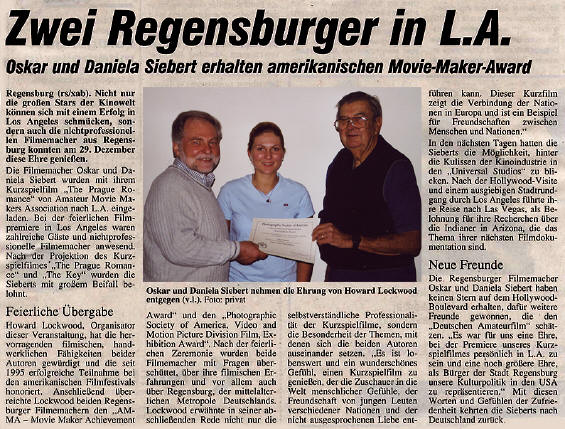 Regensburg film preview in L.A.
Not only the big stars can be proud of their success in L.A. but also the non-professional filmmakers of Regensburg.The filmmakers Oskar and Daniela Siebert were invited to Los Angeles by the Amateur Movie Maker Association. At the preview were many guests and non-professional filmmakers. The Sieberts had great success after showing their new film "The Prague romance". Mr. Howard Lockwood, the organiser of this event, told about the greatness of Sieberts films and the participation at the American film festivals since 1995- Mr.Lockwood awarded the two amateurs with the awards: AMMA-Movie Maker Achievement Award and Photography Society of America, Video and Motion Picture Division Film, Exhibition Film. A lot of questioned wanted to be responded by the "professional" amateurs, about their works and their filmmaking, and of course, of Germany and the historical Regensburg. At the end Mr.Lockwood mentioned not only the professionalism of the Siebert productions, but the social subjects of their films: "It is not only professional and very good chosen, but a wonderful feeling to enjoy a film that takes the audience into the world of emotions, the friendship of young people from different nations and the unspoken love. This short film shows the connection of the European Nations and it is an example for friendship of people and nations."
The next days, the Sieberts had the chance to look behind the scenes at Universal Studios. After Hollywood the filmmakers went to Las Vegas to celebrate their and relax after the new work of their next film about Native Americans in Arizona. The German filmmakers Oskar and Daniela Siebert did not leave a star at the Hollywood Boulevard, but won more friends for the "German Amateur film".
"It was a great experience for us to be at the preview in L.A. and it is greater to represent the cultural politic of Regensburg in America."
With these words and memories the Sieberts return to Germany.
Free translation of Daniela Siebert
Photo: Mr. H.Lockwood and the two filmmakers with their award
---