---
---
This was written about us.
/KONEF – www.konef.cz/
26th June 2003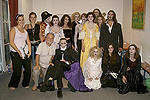 We were at the scene play of the new short film from our friend Oskar Siebert from Regensburg (Germany). The shots were technically perfect and perfect organized prepared and we, Jakub and Jaroslav Sika, of the KONEF FSNF (Teplice in Czech Republic) joined them.
After five days of work, that mostly took place at night, we noticed that making a film in Germany is not easy. But Oskar had his project perfectly organized and prepared, because we had no problems to do our work. The only thing that Oskar could not manage was the weather, but we are convinced that he will manage that the next time too. We wish Oskar and his new film "RESCUED" a lot of joy and success.
We have to add something:
Jakub and Jaroslav Sika were not only guests at the scene play of our new film. The youngest member of our film team was Jakub (14 years old) who cared about the lightening at night and always helped everywhere. Jaroslav, shortly Sika, took the tasks of the second cameraman and also helped with a lot of engagement at the cutting work. The greatest thanks goes to Slavek when we did the sound and also the blue box. Slavek Sika and his son Kuba fid a great job, like the whole film team from Regensburg for the movie, whether it will be successful or not.
We thank Slavek and Kuba so much for their fantastic and more than out of a friendship (international) work with us at our new film project "RESCUED".
Oskar and Daniela Siebert
---