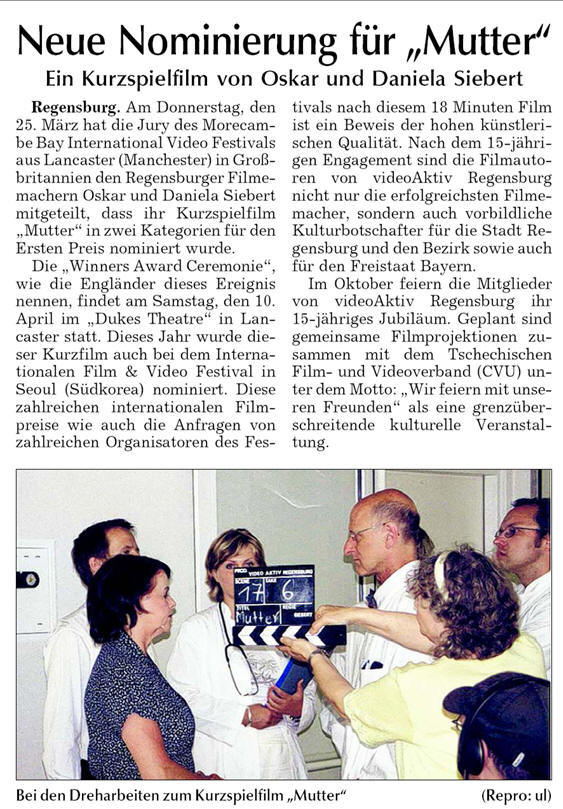 New nomination for "Mother"
A short Movie of Oskar and Daniela Siebert
Regensburg. On Thursday, 25th of March the jury of the Morecambe has Bay Internationally video festivals from Lancaster (Manchester) in Great Britain to the Regensburg filmmakers Oskar and Daniela Siebert informed, that her short feature "Mother" in two categories for him The first price it was nominated.
"Winners Award Ceremony", how the Englishmen this event call, finds on Saturday, 10. April in "Dukes Theatre" in Lancaster instead of. This year became this Short film also with the international Film & video festival in Seoul (South Korea) nominates. This to numerous international film awards as well as the inquiries from to numerous organizers of the festival after these 18 minutes of film if is a proof of the high artistic ones Quality. After the 15-year-old An engagement are the scriptwriters from videoaktiv Regensburg not only the most successful filmmakers, but also exemplary ones Cultural ambassador for the city of Regensburg and the district as well as also for the free state Bavaria.
In October the members celebrate from videoaktiv Regensburg you 15-year-old jubilee. Are planned common film projections together with the Czech Film association and videoassociation (CVU) under to the motto: "We celebrate with ours To friends" as an international one cultural event.