From Regensburg around the Whole World and Back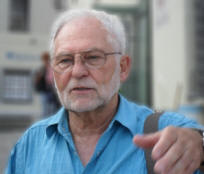 6th & 7th July 2013 - a special event to mark the retirement from film-making of Oskar Siebert. Every country where Oskar's films had had festival success was invited to send a 15 minute film programme. More than 40 were received.
In Oskar's home city of Regensburg, one of the world's most picturesque cities, delegates from many countries joined a strong Czech delegation. In a theatre on the top floor of one of the city's romantic towers we enjoyed two days of fine films and good company.
Though born in Berlin, Oskar Siebert grew up in what is now the Czech Republic. He has long worked to establish close links between the film makers of Czechia and Bavaria. A special programme was devoted to films from the Czech Republic and these were judged separately by Czech-speaking jurors.
Every author whose film was shown was awarded a diploma and a medal. On the reverse of the medal is the logo of Oskar's club VideoAktiv Regensburg. The front blends a famous statue which is on Regensburg's vital stone bridge over the Danube with a 35mm camera.
The international jury consisted of Dave Watterson (UK), Erich Riess (Austria), Jaroslav Bouse (Czech Republic) and Daniela Siebert (Germany). They awarded:
Best Documentary film: THE SONG by Dima Ilieva (Bulgaria)
Best Drama: KATRINA by Eleonora Abela (Malta) ... watch the film here.
Best Overall: LARGHETTO by Jaroslav Nykl (Czech Republic) ... watch a brief extract here.
OSKAR SIEBERT
You can - for the moment at least - see a selection of Oskar's films in their German version on the club website: www.videoaktiv-regensburg.de and you can read in English, German or Czech about his life in film. He has chosen to retire due to health problems. As for all film-makers it is not just a hobby to him, but a passion. The decision to stop was not taken easily. After several years of telling us "this is last one" ... then offering a new film or a reworked version of an older one, this really is the end. In typical Oskar style he chose to celebrate not his own work, but that of other movie-makers.
We salute you, Oskar Siebert