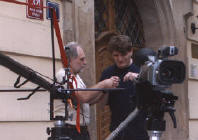 This year we finally made the first int. film-project with colleagues from Czech Republic. In September and October 2001 we filmed in the golden town Prague. We needed 13 days until we had everything filmed.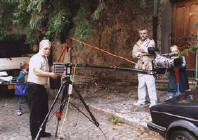 This int. non-professional film-production was great.
In this production joined the Czech people: Jan Lengyel as Czech producer, Martin Pazdera from the actor- conservatorium as actor, Krystina Fabianova as director assistant, Tomas Vokroj and Roman Volnik as actors and Karel Koci as technical assistant.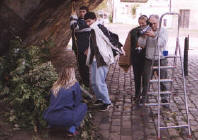 VideoAktiv Regensburg: Daniela Siebert author and German producer, Sandra Lehmann ( student from the actor's school in Munich) as actress, Petra Obermeier and Reinhold Wittke as the film-parents.Eric Grun, Sigmund Schmitzer and Georg Treffer were a great help at technical things. Director and camera-man was Oskar Siebert and the music was composed by the Czech musician Pavel Hokr. (http://www.pavelhokr.wz.cz)
For future productions we are searching for interests from Germany and foreign countries. Contact us:e-mail: daosiebert@t-online.de or tel. number +49 941 31719
we are looking forward to working together.
Your film-team
Oskar a Daniela Siebert