An Honour for the Regensburger filmmaker Oskar Siebert
18th February 2012: on behalf of the president of the German Association of Film and Video Makers, Mr. Leopold Petzenhauser (president of the Regional Association) presented to the Regensburg filmmaker Mr. Oskar Siebert a certificate honouring his 25 years of service.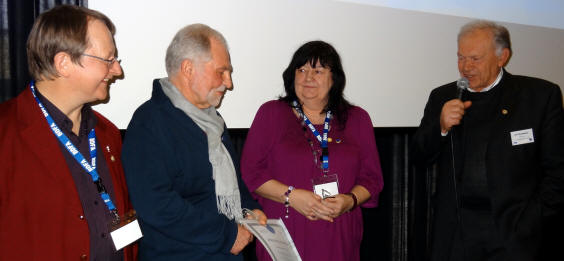 Certificate of Honour
In the recognition of his special service for non-commercial film and the BDFA, the German Association of Film and Video Makers, on the occasion of 25 -years membership: Mr. Oskar Siebert A Silver Medal of Honour
Klaus Werner Voss,
President BDFA
Oskar Siebert, has been a member of BDFA since 1986 and is founder of the film group videoAktiv Regensburg. His many top short films have been successful not only at German competitions and festivals, but have received awards from numerous international film festivals. His best films were distinguished by more than 280 international film awards and recognitions. Beside the numerous film awards, cultural prizes as several honorary awards and honorary memberships from abroad, Oskar Siebert was honoured in 1996 with the cultural ambassador prize of the city of Regensburg and in 2010 with the Bridge Builers Prize. Oskar Siebert received an additional awards in 2010 from online voting in the culture section.
Oskar Siebert is the first nonprofessional filmmaker who through his short films has brought fame to Regensburg through his work, both to the town and the region in the field of non-professional film worldwide.